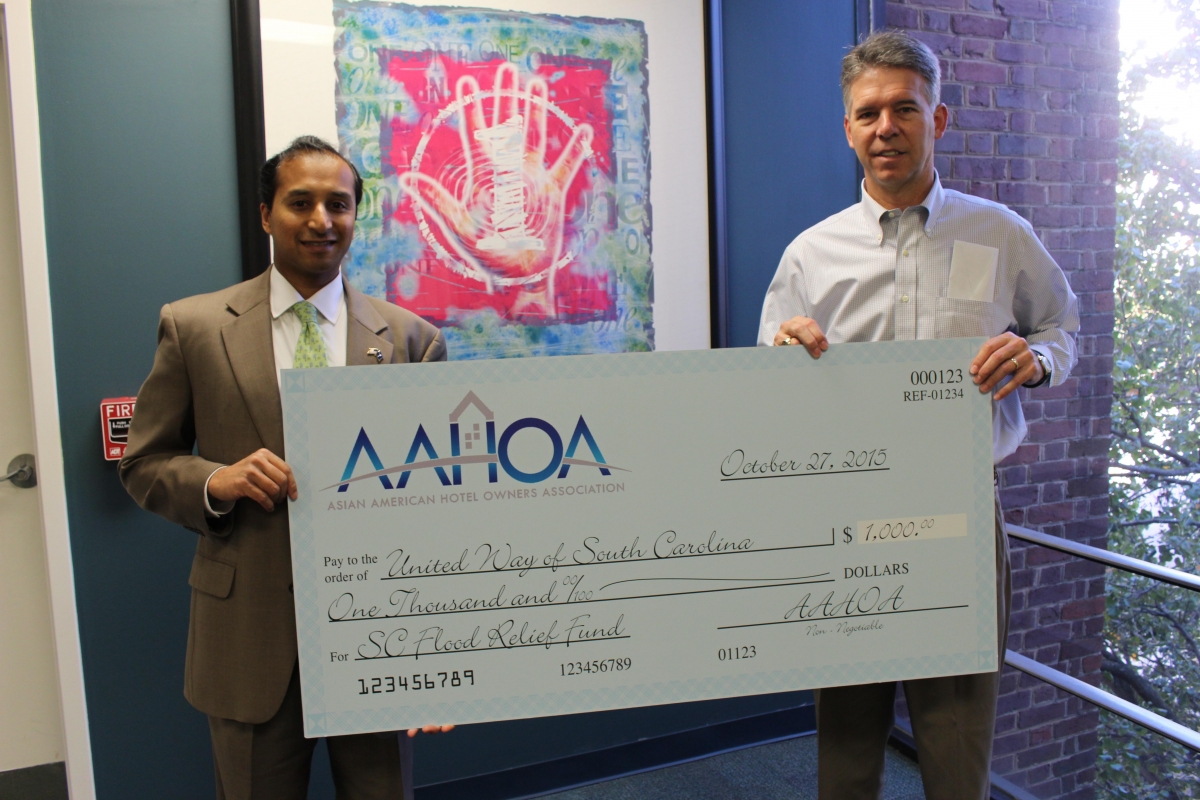 Columbia S.C. (November 13, 2015) – The South Carolina chapter of the Asian American Hotel Owners Association (AAHOA) recently donated $1,000 to United Way to help impacted communities across the Midlands after last month's flooding.
"We are very proud of the support shown to the United Way by Indian American hotel owners across South Carolina and especially here in the Midlands," said Dino Teppara, who is a member of AAHOA. "The national leadership team for AAHOA always emphasizes the importance of giving back to your community, and we're glad to help United Way and our neighbors in need," concluded Teppara.
AAHOA has more than 14,000 members and is the fastest-growing hospitality organization in the U.S. and is the largest hotel owners association in the world. Its members own nearly one out of every two hotels in America, and it is the largest membership-based Indian American business organization in the country.  AAHOA members employ more than 600,000 people in the U.S. with an annual payroll of nearly $10 billion. 
At the annual South Carolina chapter meeting held near Irmo, AAHOA presented the check for $1,000 to the United Way in support of the flood relief efforts.  AAHOA leaders expressed gratitude to the United Way for the organization's immediate support of affected families throughout the Midlands.
Three members of AAHOA's board of directors traveled from across the country to Columbia in part to announce the United Way gift: Jay (Jimmy) Patel from North Carolina; Bhavesh Patel from New Jersey; and Hitesh Patel from Texas. Chip Rogers serves as President and CEO of AAHOA and the South Carolina regional director is Mahesh (Mike) Patel.
###